1. Lighthouse Beach
Lighthouse Beach is one of the top tourism places in Kovalam. This pristine beach on the coast of the Arabian Sea is famed for its 35 metres-tall Lighthouse on the southern end, which offers a spectacular panoramic view of the surroundings. The lighthouse is completely made of stones and coloured in white and red bands. It is situated on the top of a hill, called Kurumkal hill. There is also an observation platform from which you can get a glimpse of Poovar on one side and Beemapalli mosque on the other.
Being one of the active beaches in Kovalam, Lighthouse Beach is an ideal spot to experience several water activities. The place is also popular among photographers for perfect beach landscapes that include blue water, palm fringes, rocking waves, glistening sand and a lighthouse.
2. Hawa Beach
Hawa Beach is a top tourist destination in Kerala, as well as in Kovalam. The beach is famed as a natural wonder shaped like a boundary between the sea and the other parts of Kovalam. The wide stretch of sand glistens when sun rays fall on them from the clear blue sky and create a contrast between the blue water and green dotted palm trees.
It is just about 1.5 kilometres from the lighthouse beach and is renowned for being one of the untouched beaches in India. However, it is suggested to avoid swimming here as the water current is strong here.
3. Samudra Beach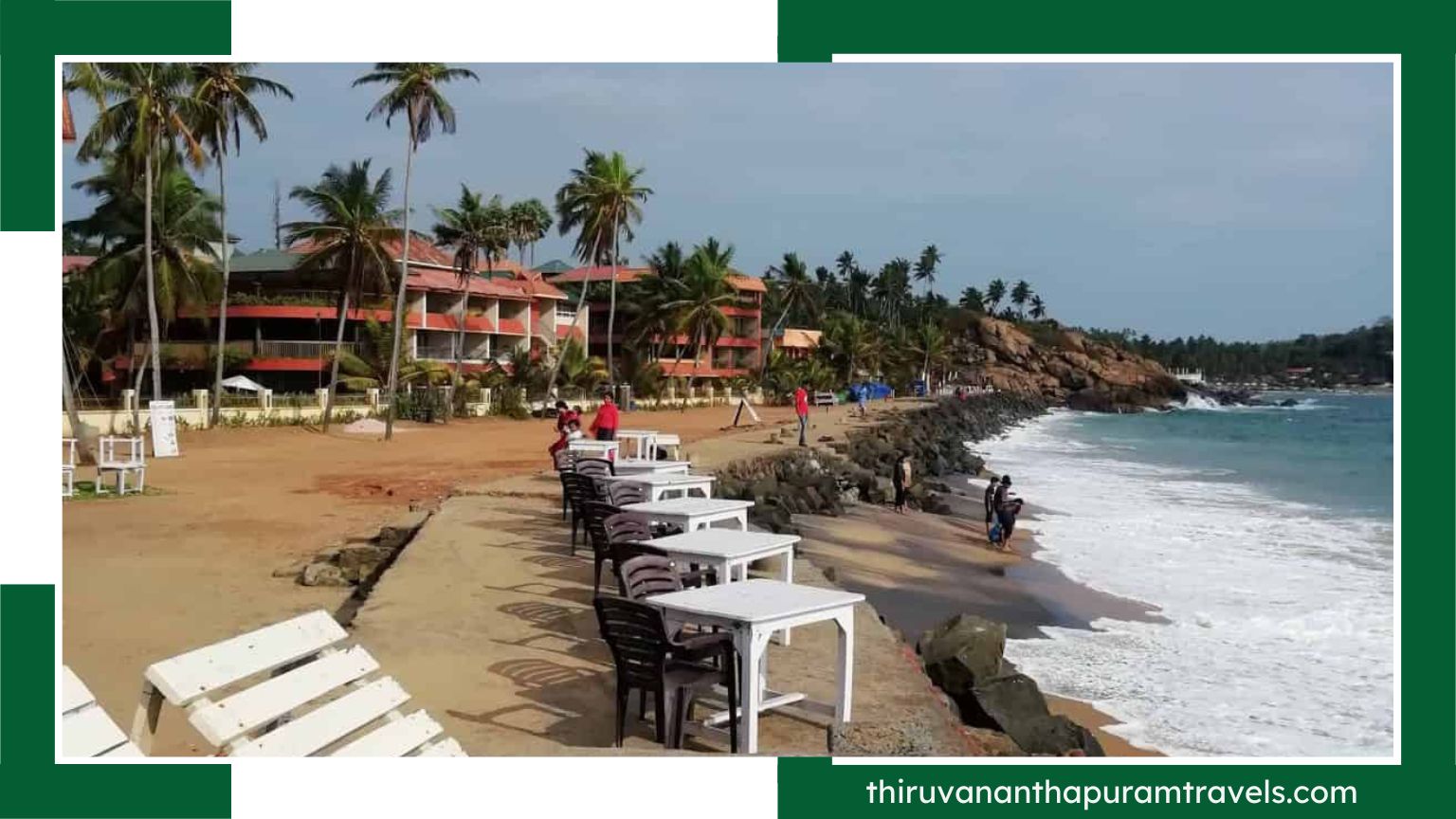 Samudra Beach is one of the three famous beaches in Kovalam (the other two are Lighthouse Beach and Hawa Beach). It is located to the north of Kovalam and isolated by a massive promontory from the other two beaches. Famous for its serenity and other attractive features, Samudra Beach draws tourists all through the year who want to spend some relaxing time on their Kerala Holidays trip.
The beach has remained unnoticed because of the presence of a ridge between the north and south coastline. The privacy, serenity and natural beauty of this beach have made it one of the perfect spots for a honeymoon destination. Samudra Beach has been getting famous in the tourism industry for another reason. Homestays run by local people that offer authentic Kerala vibes have been flourishing in this place. You can get a comfortable stay in a home-like ambience at affordable rates in the homestays on Samudra Beach.
4. Veli Tourist Village
Veli Tourist Village is a spot for spending some time amidst nature. It is a renowned picnic and boating spot situated in the connecting place between the Arabian Sea and the Veli Lake. This unique place is well maintained and located at a distance of 12 kilometres from Kovalam City. People can spend some amazing time amidst nature and opt for several boating activities at their convenience.
5. Kovalam Art Gallery
Traveling to Kovalam cannot be completed without visiting Kovalam Art Gallery. This beautiful art gallery houses age-old artefacts, paintings and sculptures. Most of the artworks represent the ancient traditions of India. Visiting the art gallery is the best thing to do for people who wish to explore traditional Indian art.
Some of the artworks in this gallery are of Raja Ravi Varma, Svetlova and Nicolas Roerich. The pieces of work feature an ancient collection of fresco artworks.