1. Kodaikanal Lake – A Serene Lake
On a fine day when clouds hover above Kodaikanal and cool breeze flows through the forests, visit Kodaikanal Lake. Covering an expanse of 60 acres, this man-made, star-shaped lake has been welcoming countless tourists since 1863. Created by Sir Vere Henry Levinge, the then Collector of Madurai, the lake is fed by the waters that come from Palani Hills. The lake's outflow creates a breathtaking waterfall, which is called "Silver Cascade". At a height of 180 ft, the cascade is also one of the popular places to visit in Kodaikanal.
2. Berijam Lake – With A Refreshing Setting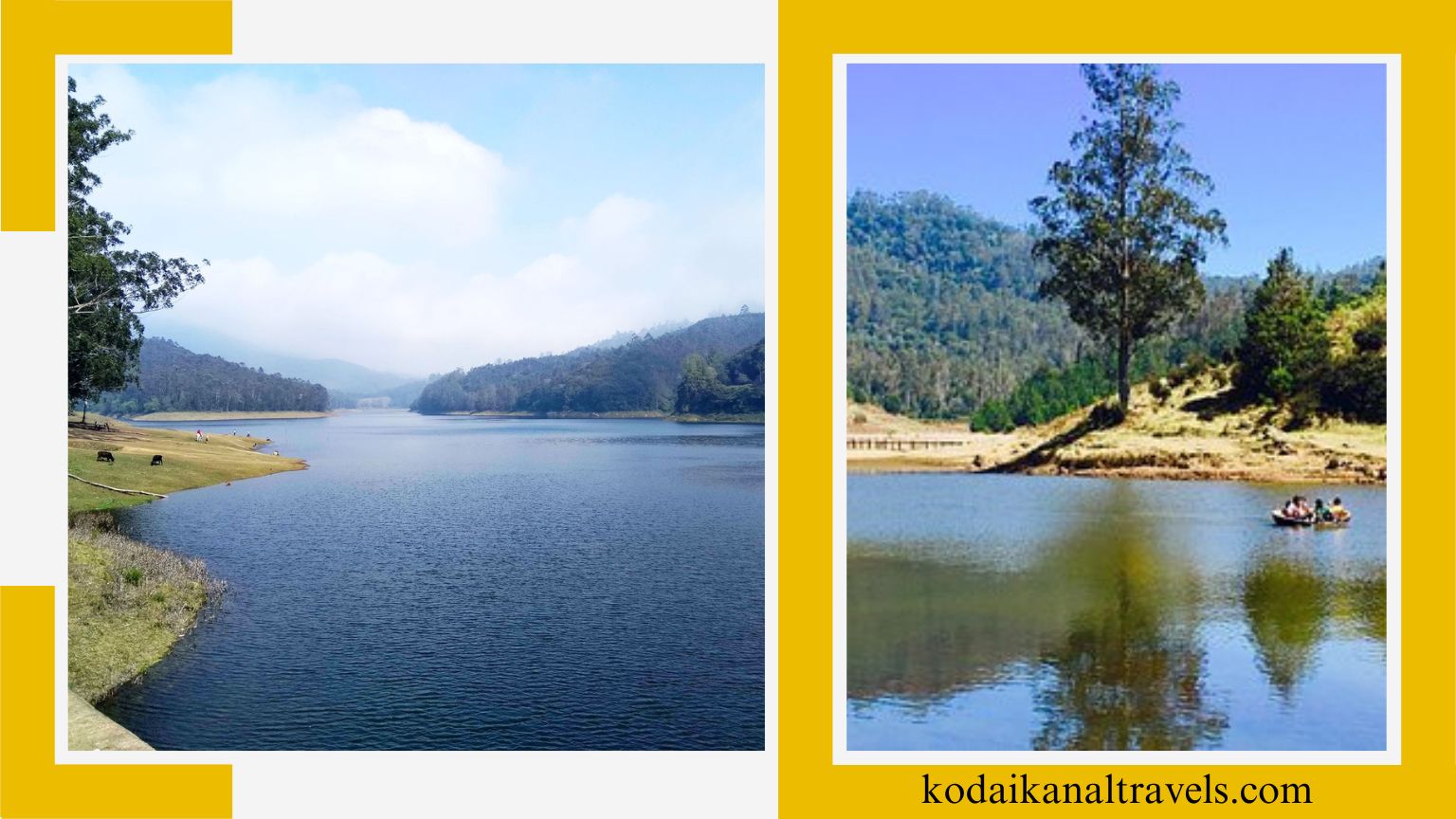 A reservoir located amid non-native trees and vast grassland, Berijam Lake is just a few km from Kodaikanal, which makes it one of the best places to see in Kodaikanal. The lush greenery and refreshing setting of the lake make it a wonderful picnic spot. Since the lake is connected by motorable roads, it is not a difficult task to reach here. However, tourists need a forest pass to enter the area. Those interested in fishing will have to take permission from the Fisheries Department. Apart from this, tourists can also go for a scenic boat ride.
3. Mannavanur Lake – A Natural Paradise
One of the most serene places to visit in Kodaikanal, Mannavanur Lake is nothing less than a paradise. The drive to the lake is absolutely scenic as the road on both the side is lined with eucalyptus and pine trees. Mannavanur area is blessed with a rich fauna. One can see exotic birds flying and spot wild animals. The lake is located inside a sheep farm where one can see flocks of sheep grazing. The Forest Department of the area offers coracle ride at a nominal fee, one can also go for horse riding. Try these things to do in Kodaikanal for a great vacation.
4. Guna Caves – Inspired From A Movie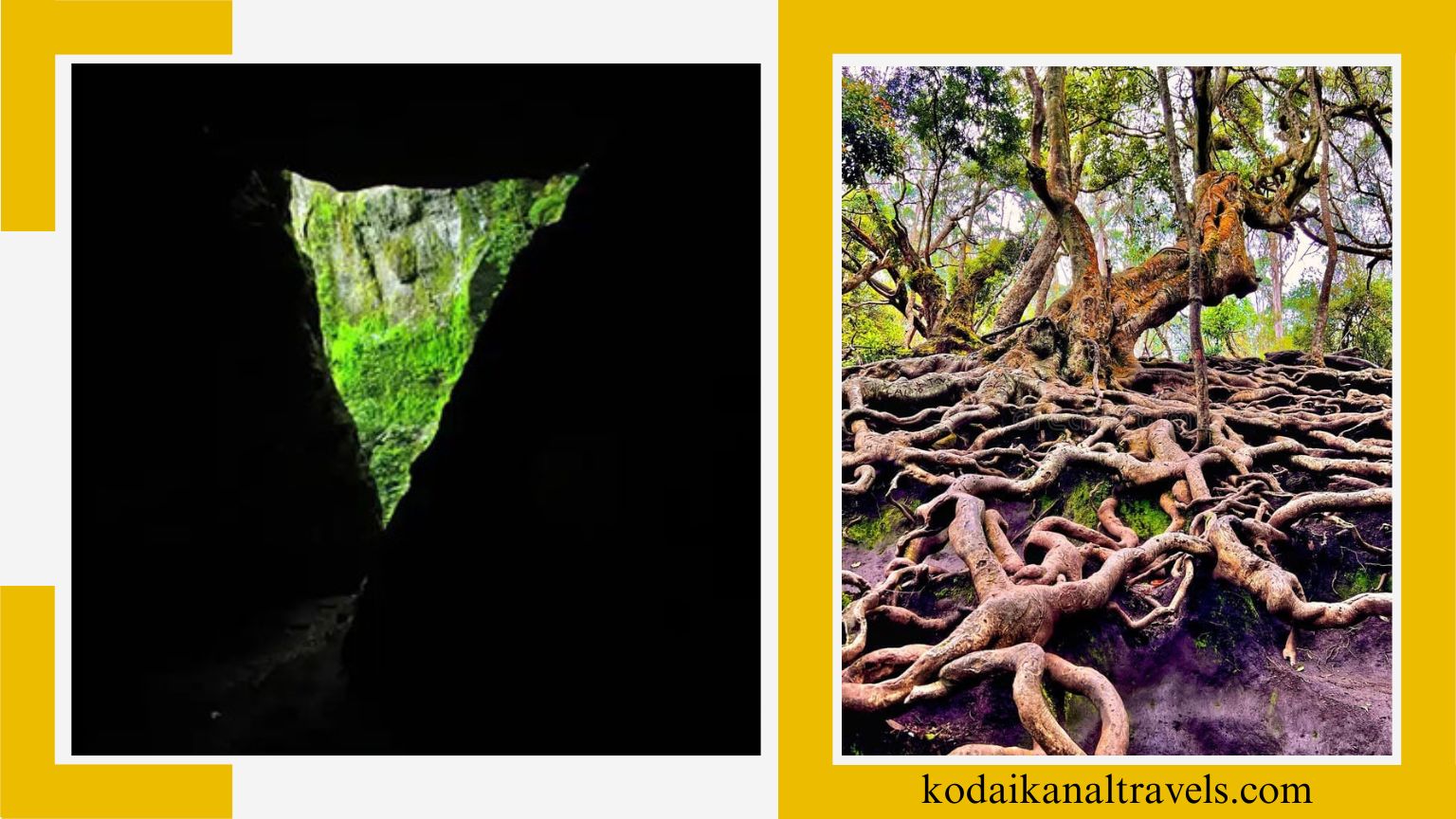 Located at a distance of 12 km from Kodaikanal, Guna Cave remained unknown for many years, but then came a Kamal Hassan starer movie "Guna" in 1991 and changed the fate of this cave. The cave was discovered by an English officer named BS Ward in 1821 CE. If you're interested in exploring the hidden wonders in the pine trees of Kodaikanal, you must explore this cave. The list of Kodaikanal tourist places is not complete without Guna Cave.Some of the best are hiking, camping, and more which are a must-try for all adventure enthusiasts.
5. La Saleth Church – Become Spiritual
A highly attractive church with a wonderful architecture, La Saleth was built in 1846 and was expanded over the course of the next century. A right blend of culture and Tamil French architecture, this shrine is located 7,000 feet above sea level. Offering a panoramic view of the lush mountain range, this catholic church in Kodaikanal is one of the most popular churches in Kodaikanal.
6. Vattakanal Falls – A Grand And Gorgeous Falls
Right in the middle of a peaceful forest, Vattakanal Falls is among the most amazing places to see in Kodaikanal. During monsoon season, the waterfall is in full swing making it look grand and gorgeous. Vattakanal Falls is one of those waterfalls in Kodaikanal that are absolutely safe to be around, but you're still suggested to wear footwear that isn't slippery.
7. Pambar Falls – With Pristine Waters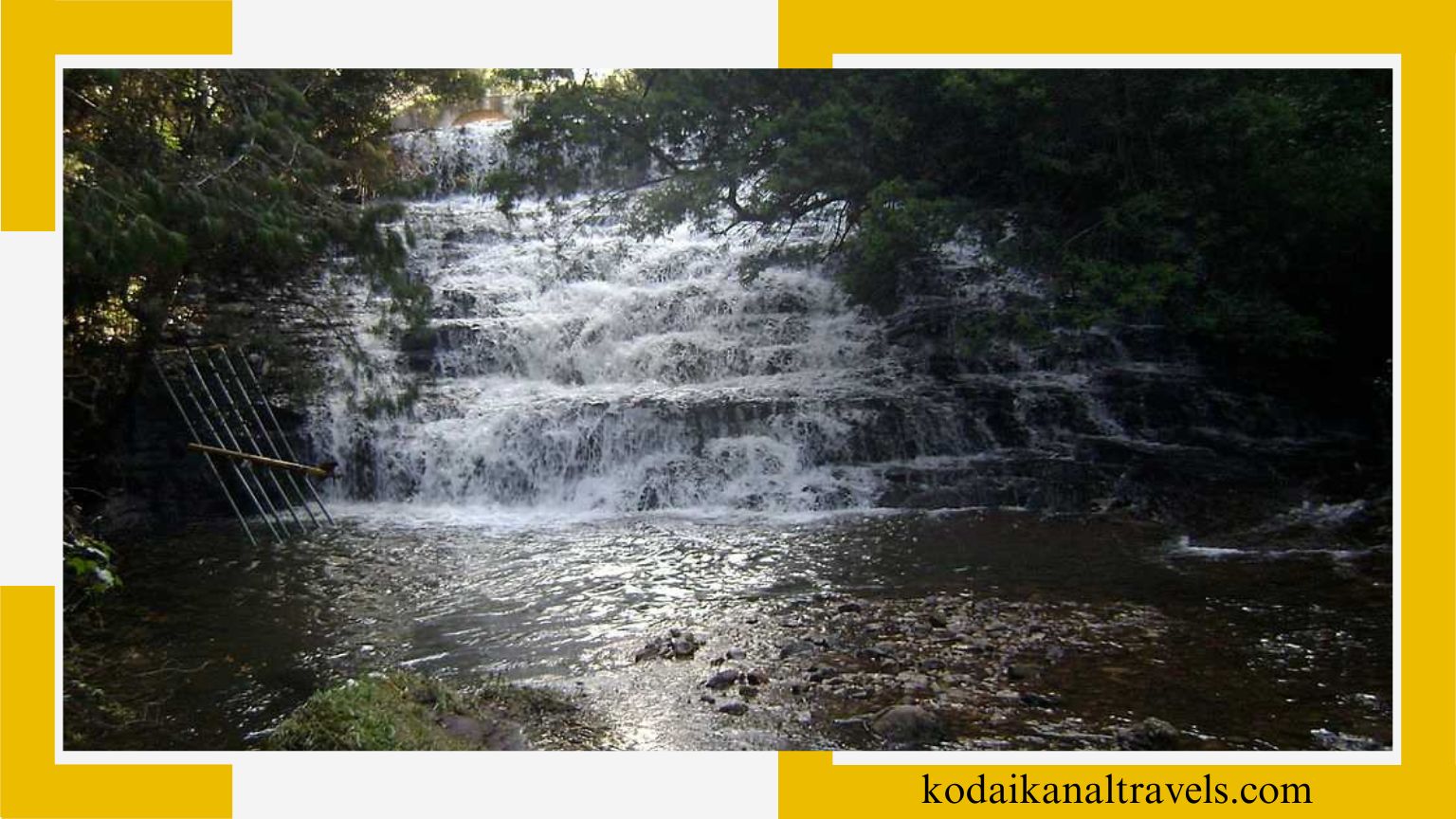 Pambar Falls is one of the most magnificent waterfalls in the entire hill station. The town's reservoir overflows creating a waterfall called "Fairy Falls", which then continues to join the Vaigai River creating the Pambar Falls. Down below, there's a pond-like formation where you can bath in the cool and pristine water of the waterfall. The green and wild vicinity makes this place absolutely picture-perfect.
8. Astrophysical Observatory – A Perfect Spot
One of the oldest observatories in the world, Astrophysical Observatory is perfect for Kodaikanal sightseeing. Located in the rolling hills of Palani, it was established in 1899. The observatory has a 20 cm refractor, which is sometimes used for cometary and occultation observations, and sometimes made available to visitors for night sky viewing. It also has an astronomy museum displaying models and pictures. This observatory deserves to be on the list of places to visit in Kodaikanal.
9. Kodai Chocolate Factory – Breathe Through Aroma
Started in 1999, Kodai Chocolate Factory is a leading manufacturer and supplier of chocolates, aromatic oils, coffees, etc. They specialize in making delicious homemade chocolates and their products are 100% vegetarian. If you are a die-hard chocolate fan, it is among the must-visit places to see in Kodaikanal for you. Do pay a visit to Pot Luck, Cloud Street, Chocolate Factory, and SG Cottage Industries to buy and try different varieties of chocolates.
10. Lutheran Church – Attain Some Peace
Built in 1932, the Lutheran Church of Kodaikanal is an impressive Gothic-style structure. The church is adorned with stained glass window, modern paintings, and murals depicting the life of Jesus Christ. Anyone interested in a beautiful piece of architecture must pay a visit to this shrine.
11. Kurinji Andavar Murugan Temple – Lord's Home
Whether you're a religious one or not, Kurinji Andavar Murugan Temple is one of the best places to visit in Kodaikanal for everyone. Dedicated to Lord Muruga (the God of hills), the temple is known for the blossoming of Kurinji flowers that grow once every 12 years. One can also witness the mesmerizing views of Vaigai Damn and Palani hills from here, which is why it's one of the best temples in Kodaikanal.
12. Bear Shola Falls – A Mesmerizing Place
Situated just 2 km away from Kodaikanal Lake, Bear Shola Falls is among the most popular Kodaikanal places to visit. Cascading down from a considerable height, this seasonal waterfall comes to life to the fullest during the rainy season when the water gushes down the mountain, making its way through verdant greenery and making a frothy base at the bottom. It is believed that this used to be the favorite place of a bear for drinking water, and that gave it its unusual name. However, now this quiet and peaceful waterfall is among the most favorite places to visit in Kodaikanal for nature lovers, couples, and adventure seekers.
13. Pillar Rocks – A Rich Aura Of Charm
The Pillar Rocks in Kodaikanal are 400 meter long boulders naturally positioned in a particular order that has become a lovely picnic spot for families with kids and couples. Also constituting a beautiful mini garden, this place has is said to have a rich aura of affection which makes them visiting them one of the most wonderful and romantic things to do in Kodaikanal. The breathtaking view of the surrounding hills and villages from these rocks is not something you'd like to miss when you're here. Don't forget to get yourself a plate of potato and onion bhaji from outside the mini garden.
14. Suicide Point – For Stunning Views
The Green Valley View, also called the Suicide Point, offers a stunning view of the Kodainakal plains, deep valleys, and hills. The enchanting views of the Vaigai Dam can also be seen from here and leave travelers in awe. The place got its name as a suicide point since the valley is quite dangerous, dense, and deep, with more than 5000 feet drop. Situated at a distance of 5.5 km from the Kodaikanal Lake, this point is one of the most famous Kodaikanal places to visit not only because it offers gorgeous views, but also because it is surrounded by plenty of shops selling homemade chocolates, ornaments, and a wide range of flowers.
15. Thalaiyar Falls – A Beautiful Waterfall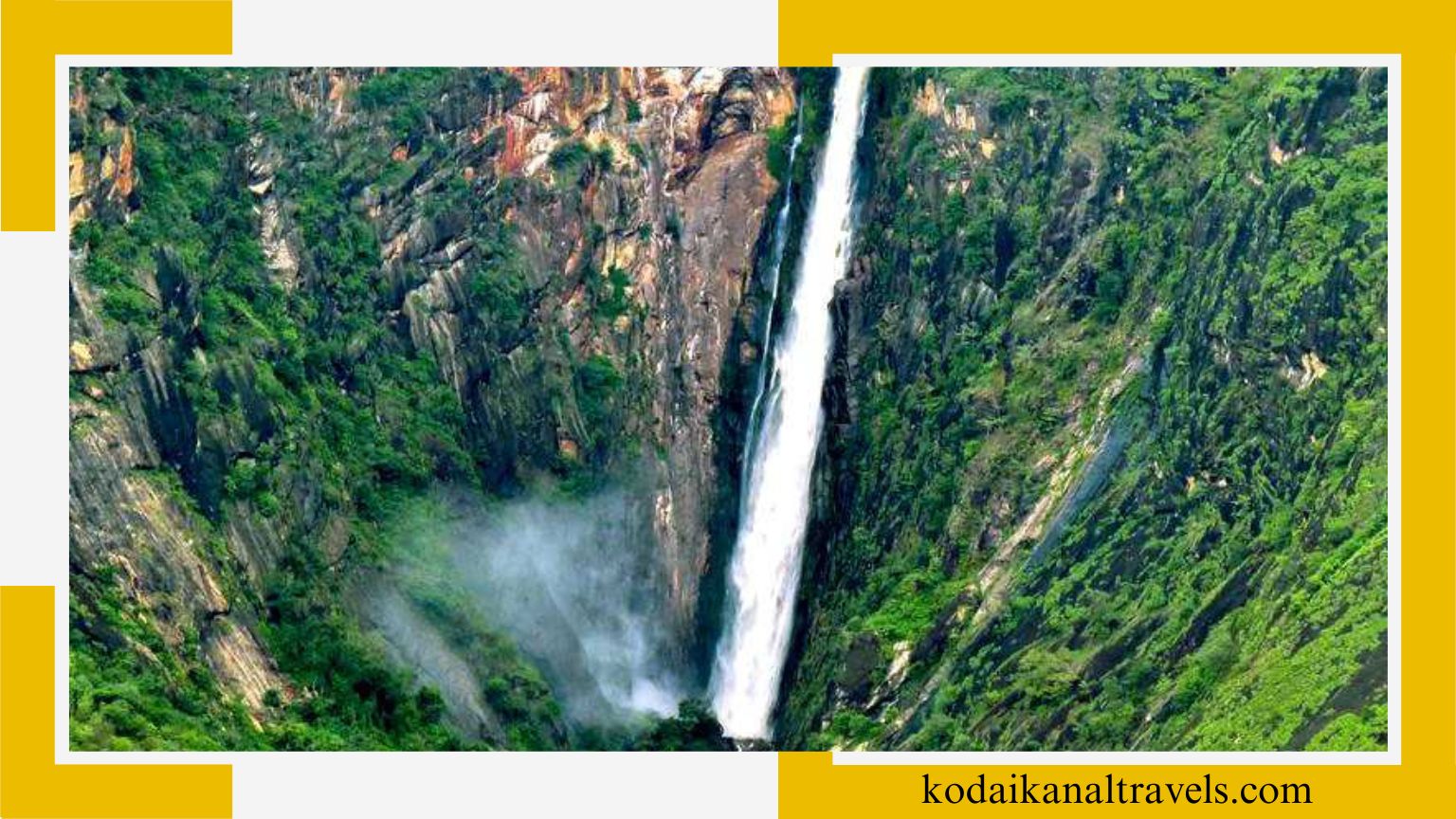 Thalaiyar Falls is one of the most beautiful waterfalls in Kodaikanal and it is located in the lush green slopes of Palani Hill ranges in the Dindigul District. The locals call it the Rat Tail Falls because of its unique appearance. Cascading from a height of over 290 meters, this one is the highest waterfall in Tamil Nadu, as well as the sixth highest waterfall in India and 267th highest in the world. There is a view tower located right in this park at the Dum Dum Rock to help photographers click awesome pictures of this awesome Kodaikanal tourist place as well as the Manjalar Dam.
16. Coakers Walk – Take A Lovely Stroll
Coakers Walk is among the most beautiful Kodaikanal tourist places and is essentially a man-made 1 km long walking plaza that is set on the mountains of Tamil Nadu. The lovely path of Coakers Walk curves beautifully at the edge of the gorgeous mountain and has been built mainly for visitors to catch a glimpse of Paradise on Earth. It is the perfect place to get a morning and evening walk amidst the goodness of nature and with such mesmerizing views to greet you of the lush valleys and hills of Kodaikanal. In fact, taking a leisurely walk on this platform is among the most relaxing things to do in Kodaikanal.
17. Dolphin's Nose – Gorgeous Views Of Valley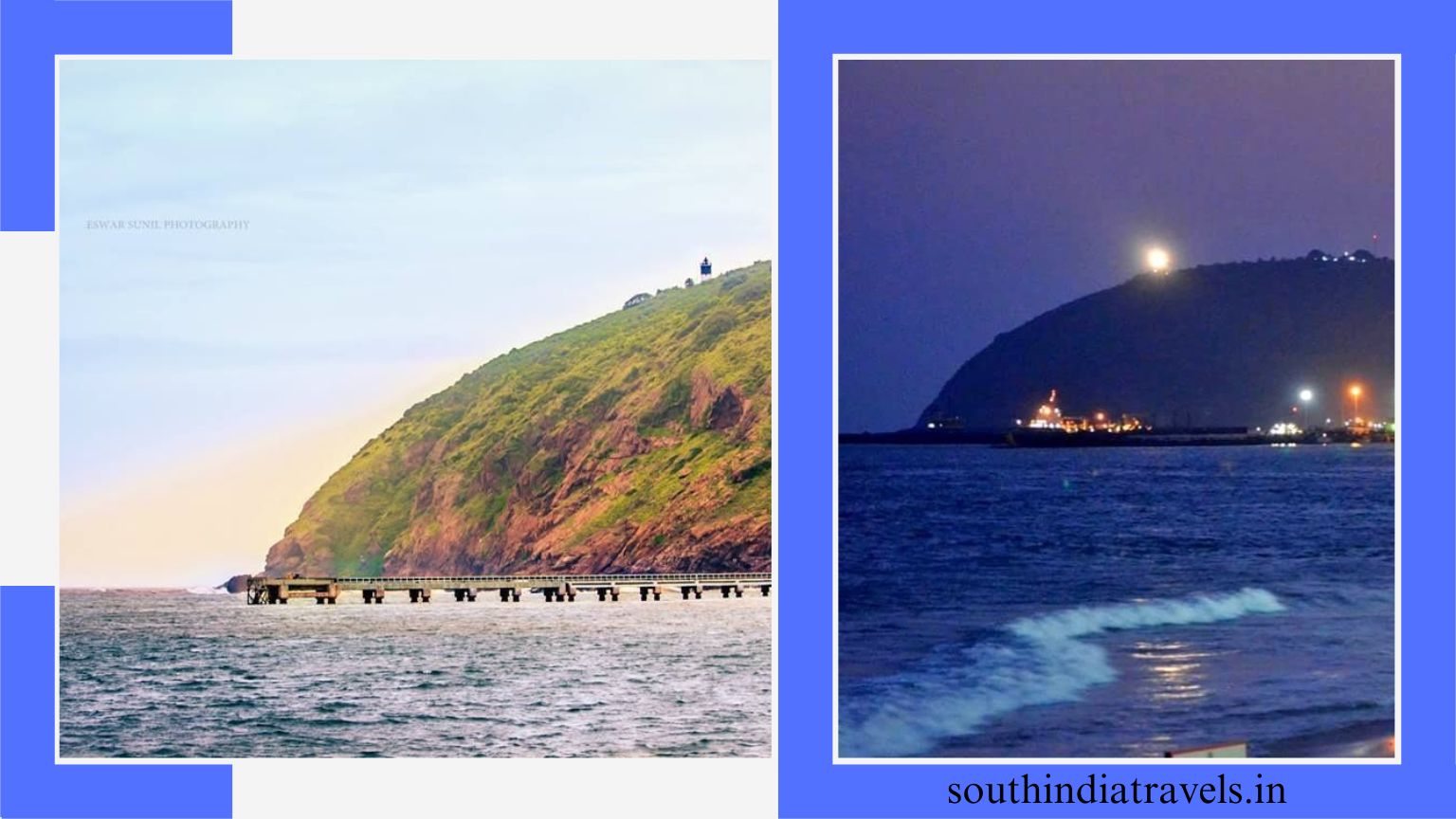 The Dolphin's Nose is undoubtedly one of the most beautiful places to visit in Kodaikanal. With views of scenic valleys, lush green surroundings, rugged terrain, clear skies, and a soothing breeze, this viewpoint is where you can experience Kodaikanal at its best. The place got its name from the flat, protruding piece of rock here that is shaped like a dolphin's nose, but it's famous more for the awesome views it offers than the shape it has. Set at a height of 6,600 feet, this locale is perfect for a lovely picnic where you can sit and chat with loved ones amid serene vistas.
18. Bryant Park – Cool Down
Bryant Park is what adds to the charm and elegance of the city of Kodaikanal in Tamil Nadu. Located on the eastern side of Kodai Lake, this beautiful park is bejeweled with a diverse range of plant and shrub species that lures in a huge influx of nature lovers and botany enthusiasts into the park every month. You'll find everything from flowering plants, hybrids, to grafts in this park. And as it is located right after Coakers Walk, you can enjoy two scintillating activities while visiting this park – a leisurely stroll as well as a rendezvous with nature's beautiful creations!
19. Pine Forest – Hike All The Way
The Pine Forest of Kodaikanal is probably its most scenic and tranquil attractions that would make you feel you've just entered your favorite fairytale! Located in southwest Kodaikanal, Pine Forest is among the most popular Kodaikanal places to visit courtesy its matchless beauty. It is home to the most serene and rare forms of nature that have been preserved to date with strict supervision on the part of the Tamil Nadu government. It also happens to be an essential heritage site in the town that came into existence owing to the tireless efforts of Mr. Bryant who had put the pine plantations in the first place in the year 1906. Offering activities like horse riding, nature walks, hiking, trekking, and camping, it's the most favorite spot of nature lovers, adventure seekers, and photographers.
20. Moir Point – Prominent Viewpoints
Tucked at the entrance of a serene jungle that leads all the way up to the exquisite Berijam Lake, Moir Point is among the most prominent viewpoints in Kodaikanal that you just can't miss. Named after Sir Thomas Moir who had constructed the Goschen Road in 1929 CE, this monument stands to commemorate his contributions and his efforts in building the Goschen Road, which actually starts from this point on the road joining the Kodaikanal-Berijam Lake. other than being an important historical landmark, this place also offers stunning views of the lush green valleys and hills of Tamil Nadu, bringing a huge crowd of tourists here every month.
21. Upper Lake View Point – Truly Mesmerizing
From the Upper Lake View Point, the star-shaped lake looks amidst the greenery which was created in 1863 by Sir Vere Henry Levinge. Tourists say that the contrast they find between the lake and lush greens is just appealing to the eyes. It makes this place very much close to perfect for a good photography session. Other activities you can expect in the lake are boating, cycling, and horse riding on the top of the hill.
22. Silver Cascade Falls – Take A Fresh Bath
Welcome another of the great places to see in Kodaikanal which is a picturesque natural area located in a lush landscape. The resultant of the Kodai Lake, the waterfalls fall from a height of 180 feet. Get a refreshing break, enjoy the views of the frothy water, or take a fresh bath which has some medicinal value. If you like Instagram, then you are going to love capturing pictures at this place. And if you want to visit the waterfalls near Kodaikanal during the rainy season, then expect a heavy flow of water.
23. Silent Valley View Point – Calming Views
Almost anything that you do in Kodaikanal will give you an experience of a lifetime. So, one of the best Kodaikanal travel tips that we can give you is visiting the Silent Valley. Apart from the tranquil environment that you find, you will be really amazed by the lush green trees around, so much so, that you will want to camp here. But an astounding place here is a hillside observation area otherwise popular as a viewpoint. Visit here for a calming natural session, see the cloud touching mountains, and embrace one of the best places to see in Kodaikanal for natural therapy.
24. Shembaganur Museum Of Natural History – An Old Significance
If you miss out on a museum tour to Kodaikanal, then you have surely missed a peaceful time. One of the most unique places to visit in Kodaikanal is the Shembaganur Museum Of Natural History. It is obviously a lesser-known place that has won the hearts of historians and travelers, alike with its 123-year-old collections. With an unbelievable collection of 500 animals (taxidermy), an orchidarium of 300 species, and specimens of wildlife creatures like snakes, butterflies, and moths. Another great collection are the remnants of the Paliyar tribes, the former nomadic people living in lower Kodaikanal
25. Chettiar Park – An Exotic Flora
Kodaikanal in Summer is a gratifying experience rather than challenging when you are to visit attractions like the Chettiar Park. A very small park that has a soothing vibe and pleasant surroundings will let you enjoy a sustainable picnic when you spend some time with your family or loved ones. You will be impressed with the amazing flora, in particular the Kurinji Flowers, which bloom every 12 years. An awesome Kodaikanal sightseeing attraction, it has been featured as a major shoot location in many feature films.
26. Poombarai Viewing Point – A Serene View
Poombarai is a scenic village located about 18 km from Kodaikanal. The inspiring hike and breathtaking views of the valley makes it one of the top Kodaikanal tourist places. Nestled between the terraced hills, the village is very popular for garlic farming. The combination of tranquil mountains and that breadth of fresh air with a view of the tiny colorful houses would be like a dream come true for you. Eat the local food in an open-air restaurant to give you a memory of a lifetime.