1. Vijaya Vittala Temple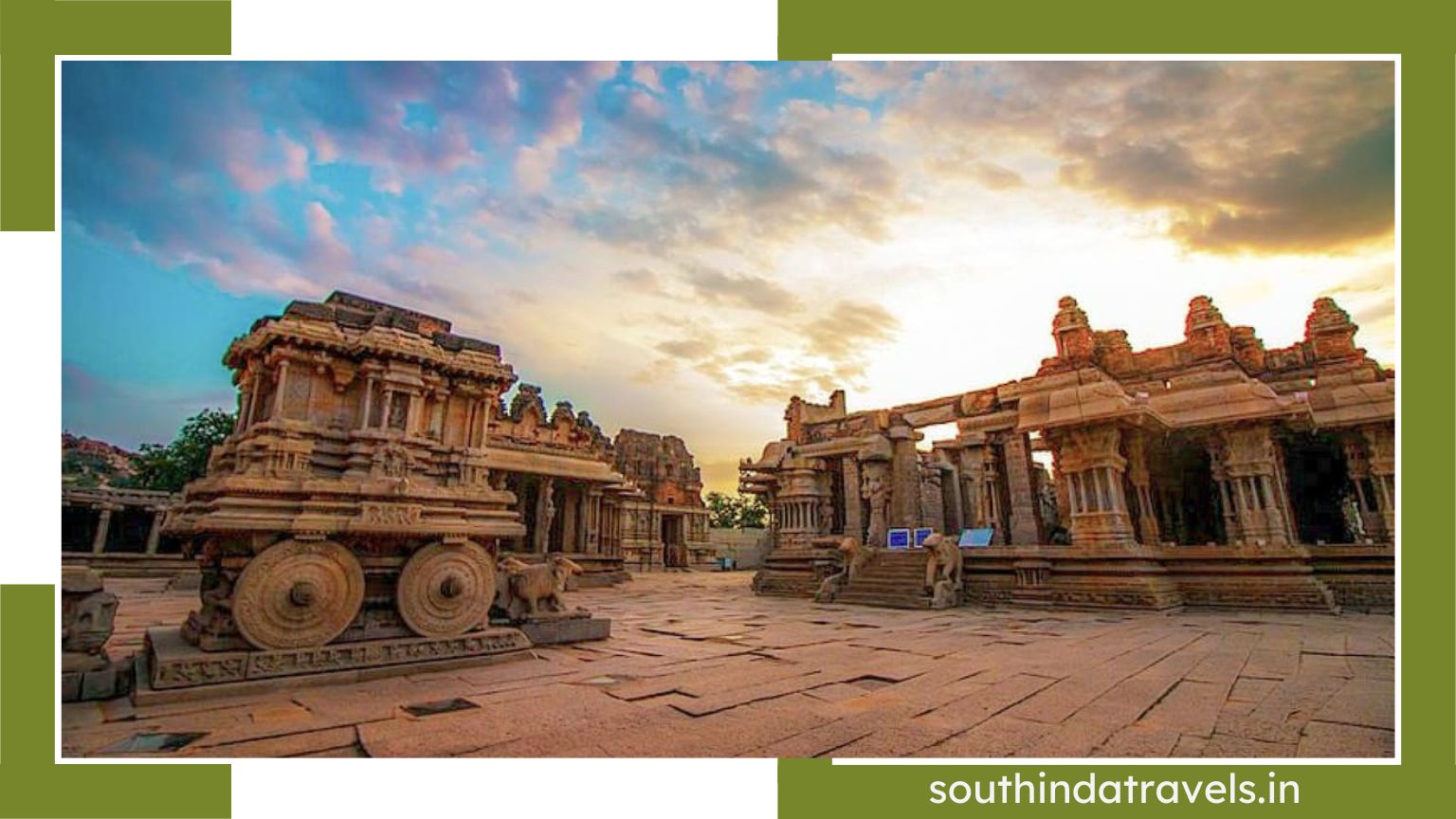 Vijaya Vittala Temple is a 15th-century structure that is also considered the largest of all historical structures in Hampi. This humungous temple is dedicated to Lord Vittala- an incarnation of Lord Vishnu- and is a must-visit amongst all Hampi tourist places. The extraordinary stone chariot, arrays of huge pillars in the temple halls, and intricate sculptures are the true embodiments of the bewitching architecture of the centuries-old Vijaya Vittala Temple.
2. Sri Virupaksha Temple
Believed to be the oldest functioning temple in India, Sri Virupaksha Temple is a 7th-century Hindu temple dedicated to Lord Virupaksha, an incarnation of Lord Shiva. The temple is also considered one of the most significant religious places to visit in Hampi and attracts a huge number of pilgrims from all over India. The sprawling campus of the Virupaksha temple houses a huge courtyard, huge gateway towers, and other old-style structures that will leave you in an awe of its immense grandeur.
3. Hemakuta Hill Temple Complex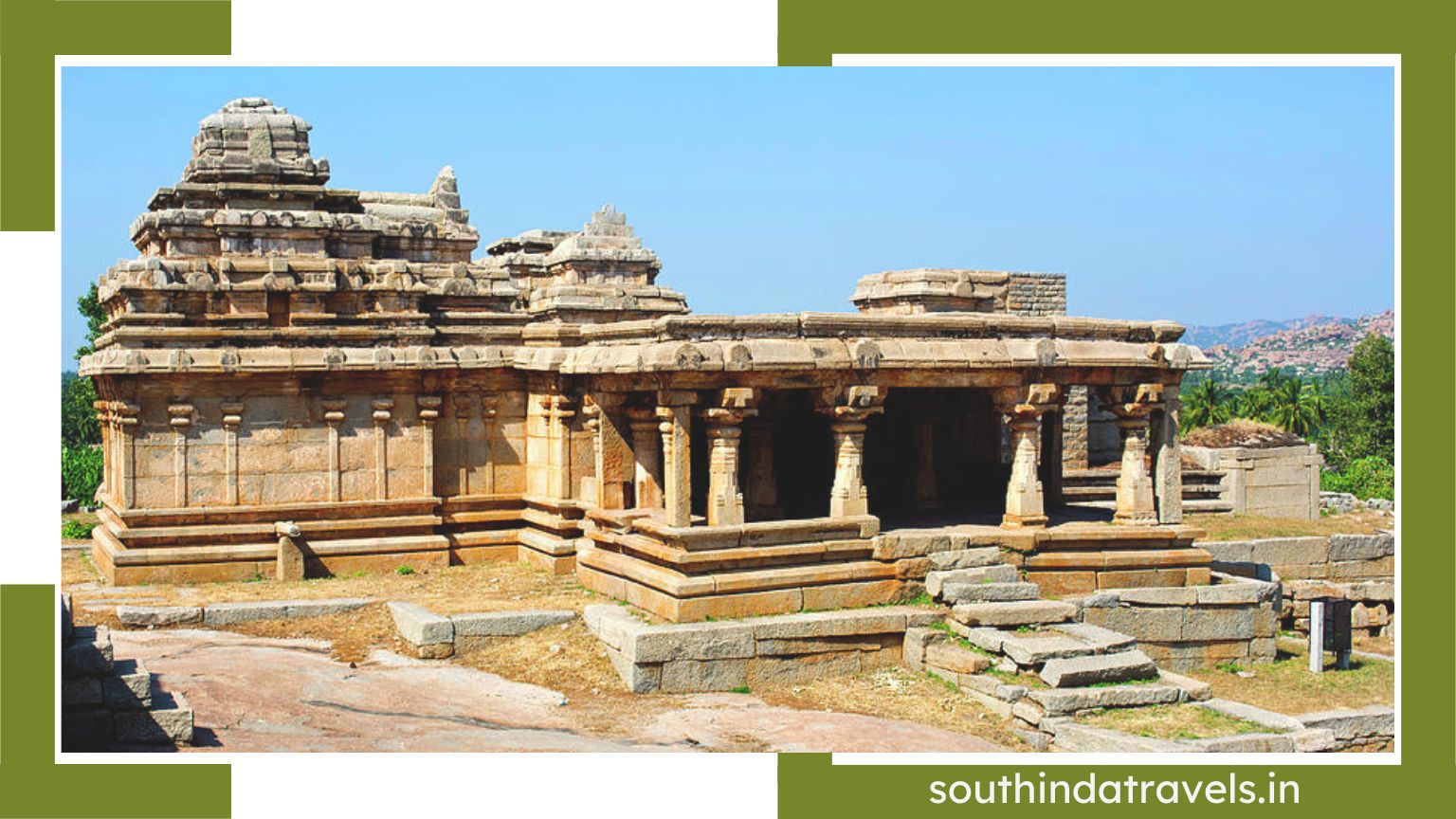 Hemakuta Hill is a wonderful place lined by a number of Hindu temples, ruins of fortified walls, and broken pathways. Mula Virupaksha Temple in Hemakuta Hill Temple complex is one of the most prominent places to visit in Hampi.
4. Sasivekalu Ganesha Temple
Located on the south side of Hemakuta Hill, the Sasivekalu Ganesha Temple derives its name from the resemblance between Ganesha's belly and mustard seed which is locally known as Sasivekalu. It houses a 2.4-meter statue of Ganesha spectacularly carved out of a boulder stone depicting a snake around Lord Ganesha's stomach. The history of the magnificent pavilion that surrounds the statue of Ganesha dates back to 1506 A.D. making this temple a famous tourist attraction in Hampi.
5. Lakshmi Narasimha Temple
Within the ruins of Hampi, the Lakshmi Narasimha Temple- also known as the Statue of Ugra Narsimha- is the largest monolith statue in Hampi. This 6.7-meter high statue was built in 1528 A.D. which was vandalized in 1565 during a Mughal raid over the Vijayanagara Kingdom. The statue of Lord Narasimha- an incarnation of Lord Vishnu and a half-man, half-lion- depicts the deity sitting in a cross-legged position in its fierce form.
6. Queen's Bath
Probably, a royal bathing complex for the erstwhile king and his wives, this majestic and enormous ancient building sets the clock back and is one of the major places to see in Hampi. The beauty of the ruins of Queen's Bath gets to you the moment you lay your eyes on the unbelievable architectural style of this ancient royal pool. A huge courtyard in the front with a dome-shaped roof, balconies with small windows, and a rectangular pool made of bricks in the middle with open blue sky greet you at the Queen's Bath in Hampi.
7. Riverside Ruins
An array of 108 Shiva Lingas carved on the flat rocky surface and a finely rock-carved sculpture of Lord Vishnu in a reclining position make Riverside Ruins one of the most enticing places to visit in and around Hampi. A number of small shrines, statues, pavilions, and carved artefacts within this cluster of ruins make it a perfect place for photographers and historians. Exploring historical ruins is one of the best things to do in Hampi and while visiting this spot, you can surely treat the history buff in you.
8. Archaeological Museum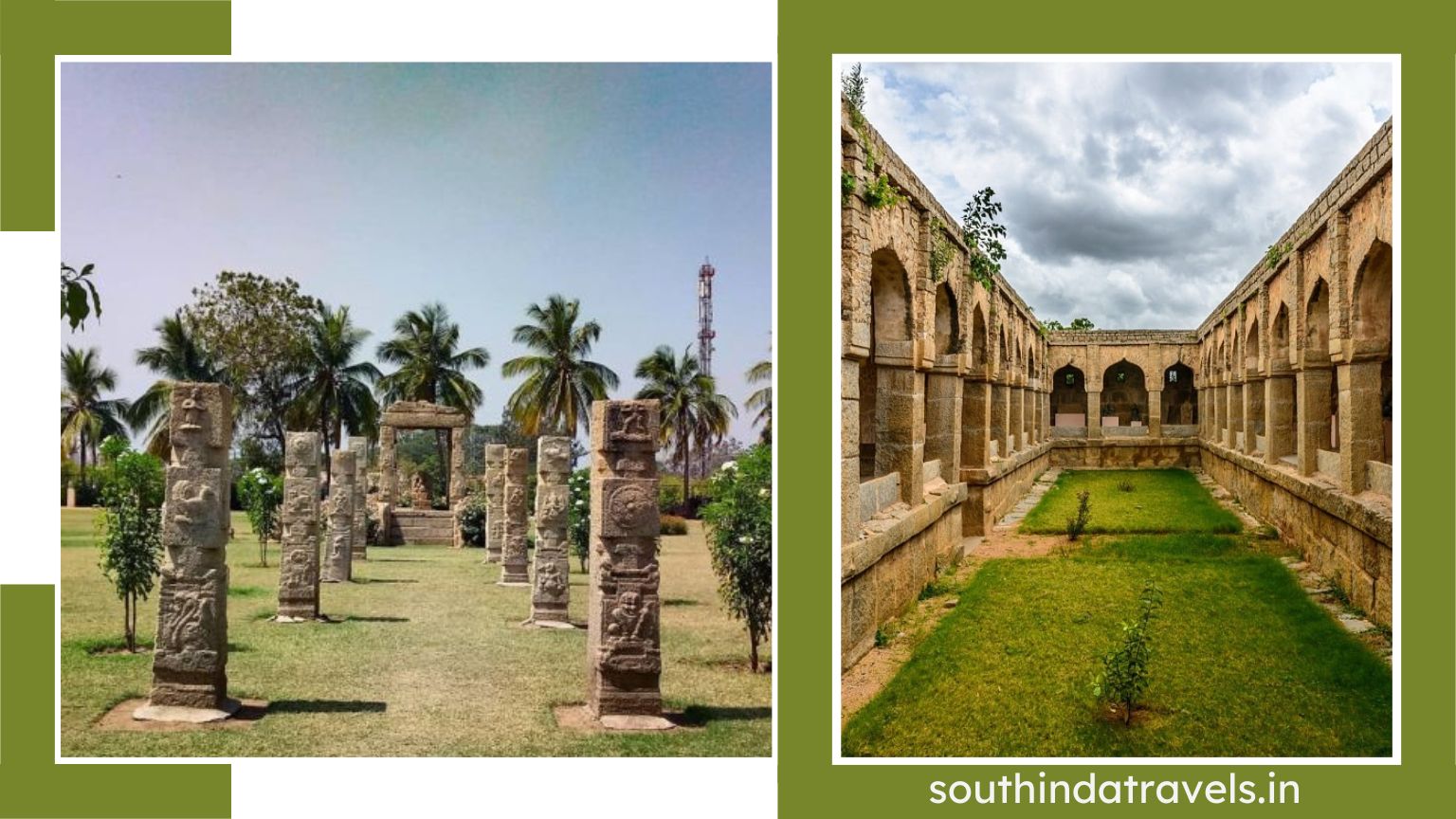 The Archaeological Museum in Hampi is one of the most noteworthy Hampi tourist places having four different art galleries that house a wide variety of artefacts. Ancient coins, statues, paintings, metal plates, armoury, and sculptures of various Hindu deities can be found here. All four sections of this museum are worth exploring and a treat for history buffs and kids.
9. Daroji Bear Sanctuary
Daroji Bear Sanctuary is a protected forest area where you can witness lovely Indian Sloth bears strolling around or climbing up the trees or playing around with each other. Established in 1994, this sanctuary also houses leopards, hyenas, jackals, spotted deers and various other species of animals and plants making it one of the most favourable places to see in Hampi for nature and wildlife lovers.
10. Tungabhadra Dam
Among famous attractions in Hampi and surrounding places to visit, the Tungabhadra Dam pure natural bliss. With lovely flamingos playing around the beautiful garden on one side of Tungabhadra Dam, it's the best place to take out your camera for some great shots.
11. Gagan Mahal
Gagan Mahal is a magnificent architecture that dates back to the 16th century. However, the significant areas of this palace are currently ruined but the palace is worth visiting. You can also head to the nearby popular attractions including Sabari Caves, Nava Brindavana, Sarovar Laxmi Temple, Durga Temple, etc.
12. Krishna Temple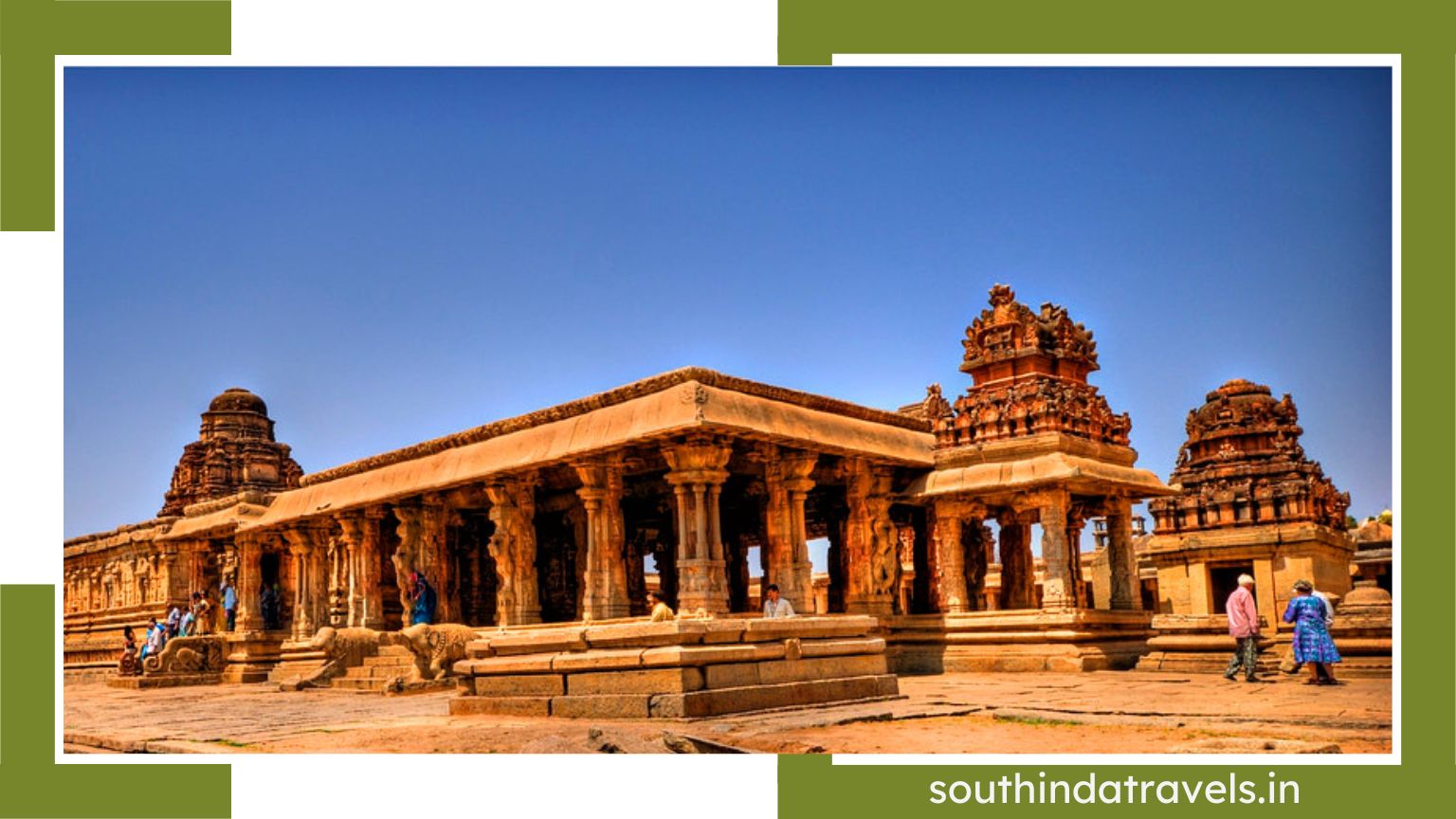 Krishna Temple in Hampi is one of the most popular spots here and lure travellers from across the world with its exquisite carvings. The temple was built by Krishnadevaraya and exhibits his personal interest in art and culture. IF architecture intrigues you, make sure to visit here and get some striking clicks in your camera.
13. Hazara Rama Temple
Hazara Rama Temple is another beautiful attraction in Hampi that showcases the royal era. The temple is dedicated to Lord Rama and the walls here exhibit the significant chapters of Ramayana through photography. The magnificent infrastructure of this place has been enticing visitors for centuries.
14. Elephant Stables
One of the most interesting places to explore in Hampi is the Elephant Stables. These are the enormous homes of the royal elephants. The elephant stables comprise 11 chambers and its enormous structure is a true surprise for visitors.
15. Stepped Tank
Once considered to be a sacred tank, Stepped Tank in Hampi is another amazing place to explore in Hampi. Earlier, the place was a hub of pilgrims who used to take sacred baths here before visiting the prominent temples of the area. However, with the passage of time, the place turned into an eminent tourist spot!
16. Monolithic Bull
Monolithic Bull or Nandi is located at the east end of the Hampi Bazaar and is frequently visited by travellers strolling in the streets of the bazaar. Monolithic Bull is an enormous piece of ancient architecture and attracts travellers from across the world with its rare features.
17. Kamal Mahal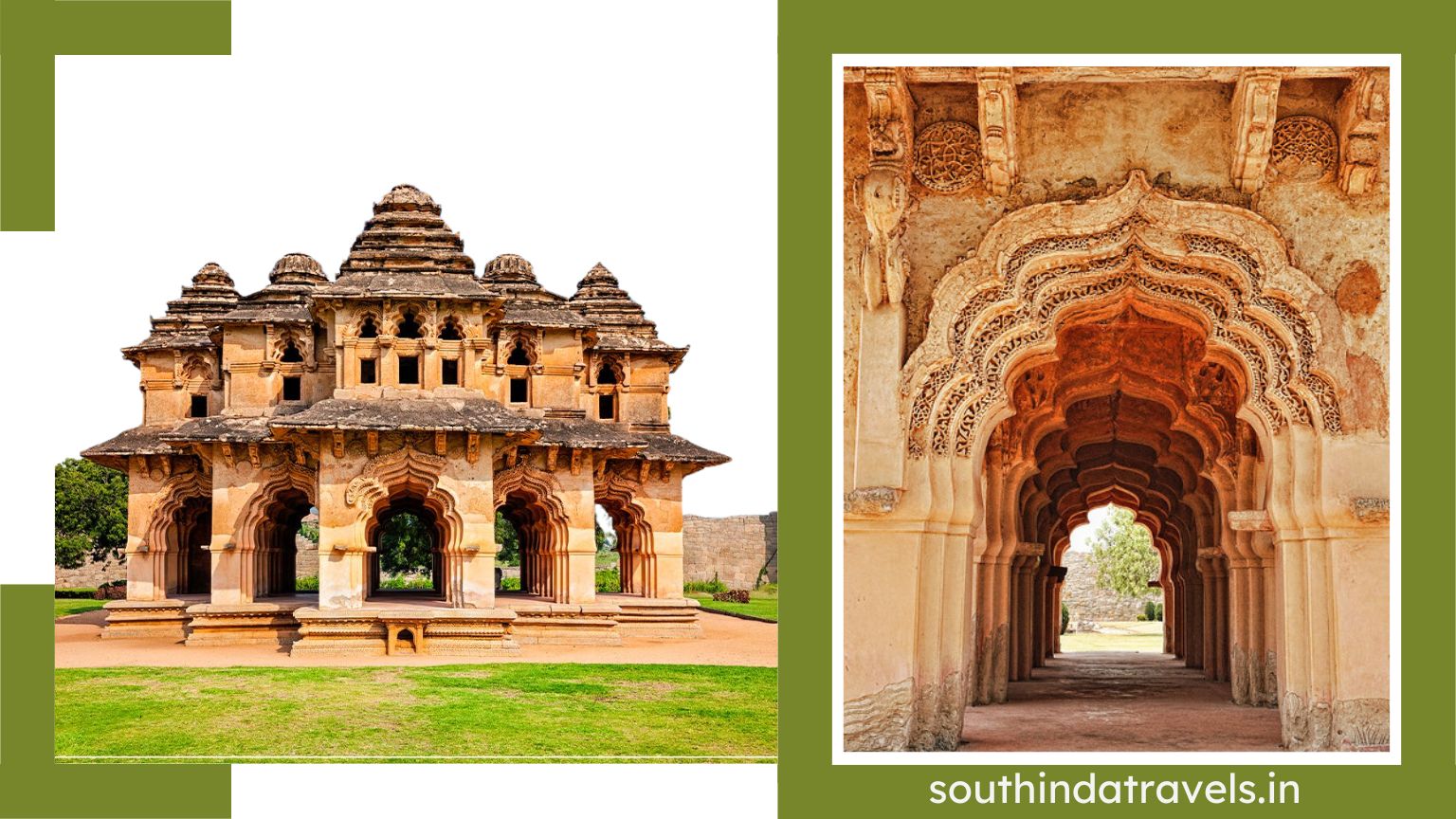 Kamal Mahal is also known as Lotus Mahal and is known for its beautiful architecture. The palace has been named after its lotus-shaped structure. The central dome is like the bud of lotus, whereas the balcony and passages depict the petal. The palace is surrounded by 24 pillars to provide support to this lotus-shaped palace.
18. Zanana Enclosure
Another surprise for history-lovers, Zanana Enclosure is believed to be the secluded area where the royal ladies of Vijayanagar Empire resided. The famous Lotus Mahal is located in the centre of this place. The place exhibits the life of royal ladies during the previous era and its beautiful architecture is designed in Indo-Islamic style
19. Kadalekalu Ganesh
Kadalekalu Ganesh is a crucial religious attraction in Hampi. Visitors will experience traditional stone architecture in this temple. There is a 15 ft long monolithic stone statue of Lord Ganesha which is believed as the largest in the world. Add this sacred spot to your list of places to visit in Hampi in one day to seek the blessings of the 'Vighnaharta.'
20. Tiruvengalanatha Temple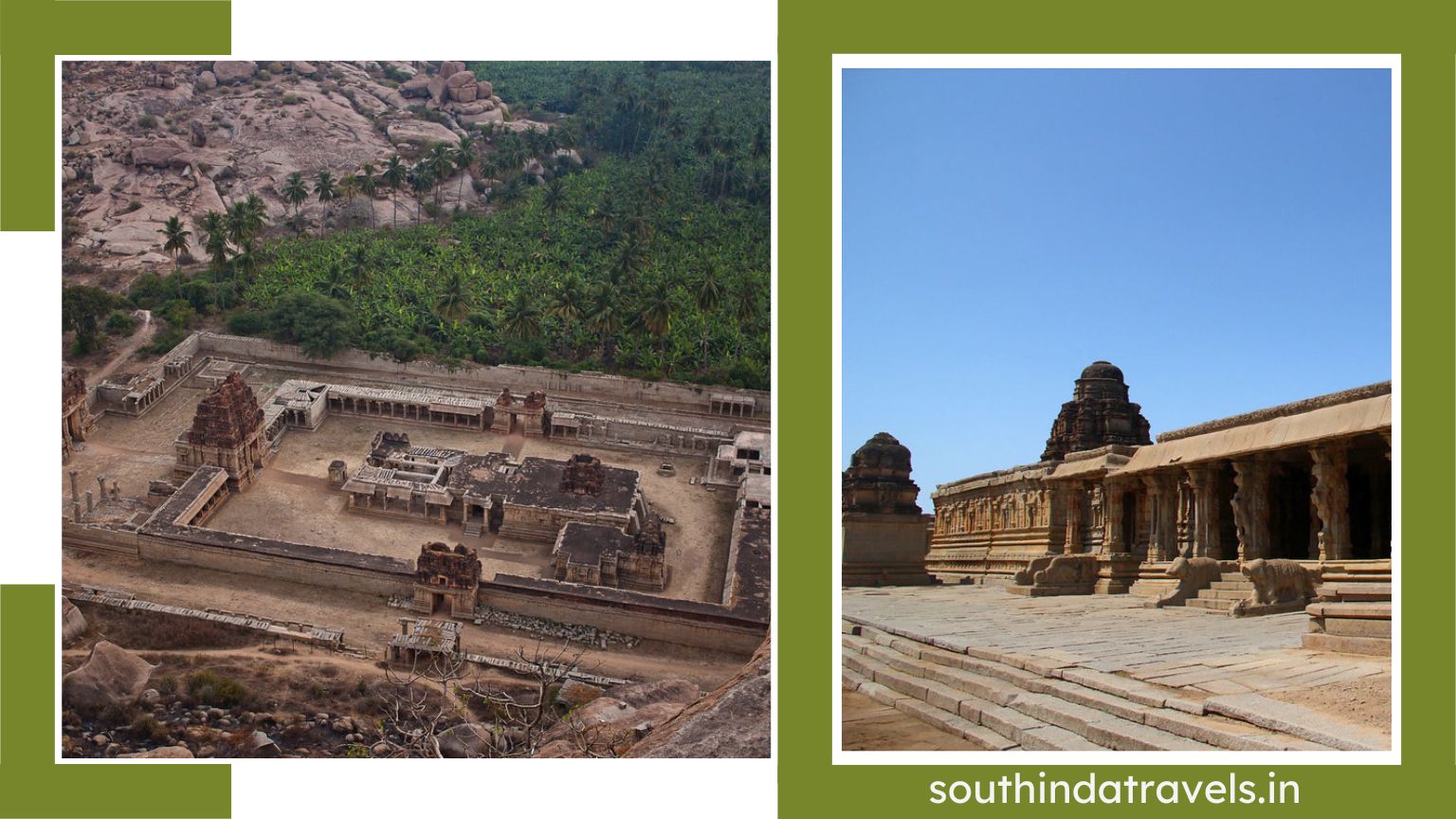 Also known as Achyuta Raya Temple, it is one of the popular and stunning places to visit in Hampi. This temple was built in 1534 AD and was named after the main deity who is a form of Lord Shiva. This temple was a few of those last temples built during the Vijayanagara Empire. Sitting between Gandhamadana and Matanga hills, the temple, however, lies majorly in ruins that were as a result of attacks on it by the Bahmani Kingdom.
21. Krishna Pushkarani
One of the most sacred places in Hampi, Krishna Pushkaranis takes you back to ancient times. This famous tourist spot allows one to get a glimpse of the architectural style of the Vijayanagara era. You will find many such Pushkarnis all around the city. Located near Krishna Bazaar, this remarkable water tank is one of the best places to visit in Hampi.