1. Marudhamalai Temple
Located at an elevation of about 500 ft on the Western Ghat, Marudhamalai Temple is set atop a hill that offers picturesque views of the hillside. Marudhamalai Temple is known for its high vibrations and revitalizing atmosphere. That's not it, the Dravidian-architecture of the Temple is completely awe-inspiring.

At the first look, it seems like the edifice is touching the sky, literally! Lord Murugan or Kartikeya is the main deity of worship in the Temple as the devotees from all over the world pay a visit to the Temple in hopes of getting the pure blessings of the Lord. Another highlight of this temple is that it grows medicinal herbs which are used for making Ayurvedic medicines.

2. Arulmigu Patteeswarar Temple Perur
It is quite an ancient temple which was built to worship Lord Pateeswara Swamy, commonly known as Lord Nataraja. The temple is situated at a distance of approximately 9 km from the main city and is largely known for its grand architecture, ancient artwork, paintings, sculptures, carvings, and relics

Moreover, when you enter the temple, you will find a majestic idol of Lord Pateeswara that has a scar on his face, given by Kamdhenu. This one is one of the biggest temples in Coimbatore and thus makes it to the list of the best places to visit in Coimbatore.

3. Kovai Kondattam Amusement Park
One of the top tourist attractions in Coimbatore, this park is a fun-filled place to visit for some quality time with your family and friends. Kovai Kondattam is an electrifying amusement park known for its numerous water and dry rides, dashing cars, wave pools, aqua dance, rock climbing, video parlour, etc are to name a few.
Other popular attractions of this park include, giant wheel, pirate ship, water slides, merry-go-round, food stalls, water falls, etc. There is no end to the amount of entertainment one can soak in during their time in this amusement park.
4. Adiyogi Shiva Statue
Settled amid the lush green forest side of Velliangiri Mountains, Adiyogi Shiva is the world's biggest bust statue, carved out of 500 tonnes of steel. The statue is a part of the popular Isha Yoga Centre and stands at a height of 112 feet. The purpose behind this standing statue is to promote the culture of yoga and meditation. Since Lord Shiva is the Adiyogi or the first teacher of yoga, He is the symbol of promoting this beautiful ancient art.
The figure is shiny black in colour and exhibits moksha theme in yogic culture. However, anyone and everyone is invited to the centre to practice the art and better themselves. The base of the statue also leads up to the shrine and meditation centre. The place is always full of tourists and practitioners all through the year. No wonder this Statue is the one of the top tourist attractions in Coimbatore.
5. Eachanari Vinayagar Temple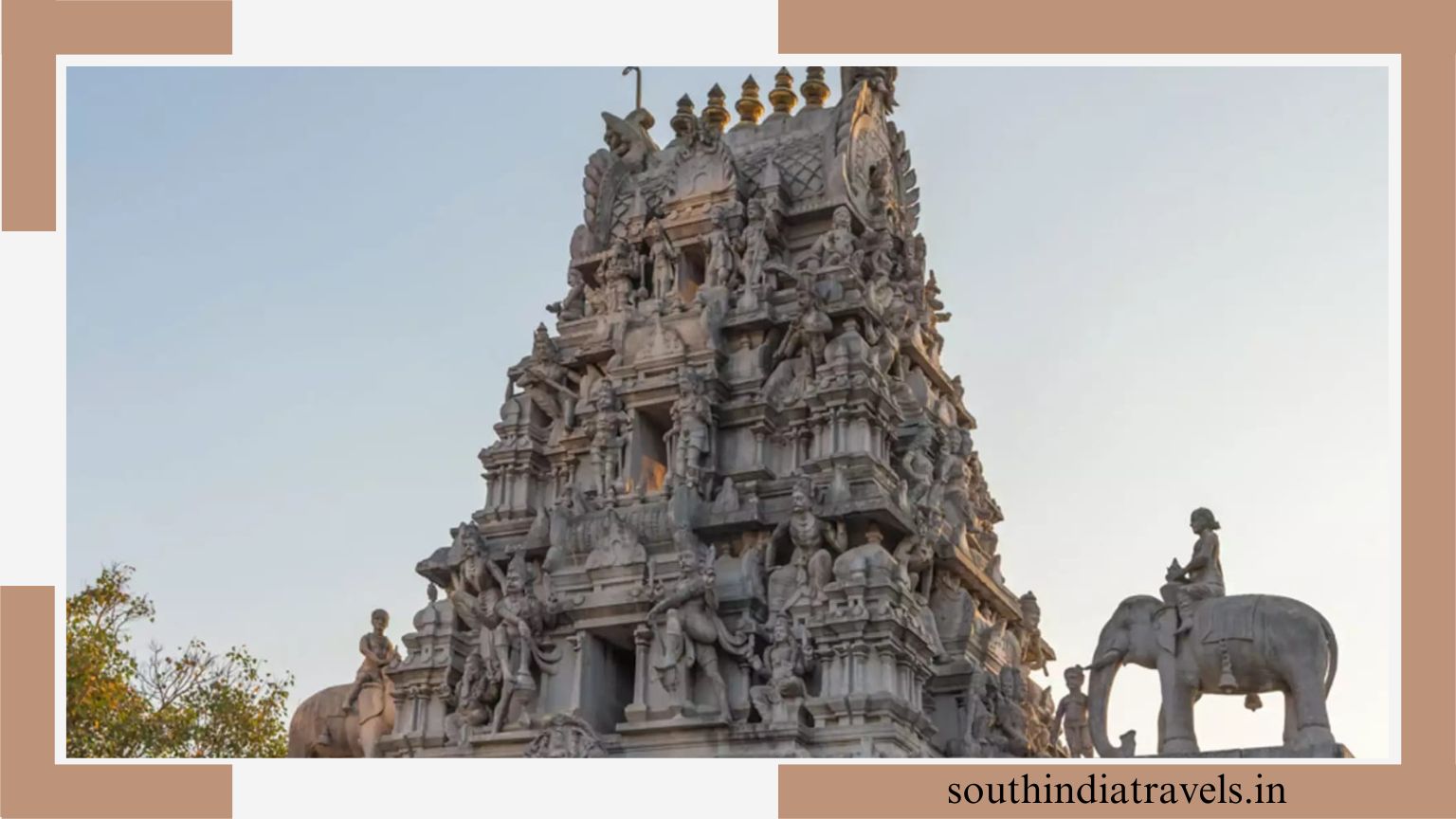 This temple is dedicated to Hindu Lord Ganesha and attracts devotees from all over India, especially at the time of Ganesh Chaturthi, the Indian festival that celebrates the birth of Lord Ganesha every year. However, the invigorating Dravidian architecture of the Temple calls for a day's visit for anyone who is travelling to Coimbatore.
There are many folktales and stories related to the Temple and Lord Ganesha. Amongst the most popular ones is that of a cart, which got stuck exactly in the place where this Temple stands today, and it was believed to be God's wish to have a Temple constructed in the same spot. Thus, this magnificent Temple was constructed and is highly revered by both locals and tourists alike.
6. Gedee Car Museum
One of the top places to visit in Coimbatore for car and bike lovers, Gedee Car Museum is an amalgamation of vintage and new cars that are transported to the Museum all the way from countries like US, England, Germany, and France.
For the better understanding of people, these cars are exhibited along with important information related to them. Each model has a sign board or chart that tells the whereabouts of the concerned car. Along with an impressive international collection, the Museum is also home to some antique Indian cars as well. If you are an automobile engineer or simply a motorhead, you are going to have an absolute gala time here.
7. Masani Amman Temple
Popularly known as the temple of justice, Masani Amman temple is cradled 15 km away from the scenic town of Pollachi. Devoted to Mahamuniappan, Sri Masani Amman, and Neethi Kal, this historic temple sits right in front of the confluence point of Aiyar river and Uppar stream. Apart from being a sacred site of worship, it also serves as a venue for panchayat and justice authority to settle disputes
The temple houses a 17-feet long idol of Sri Masaniamman with skull in one hand, serpent in another, and drums in other hands. The image of this idol is placed in reclining form which sets it apart from any other temple. If you are looking for a sacred spot to delve deeper into the mythological history of Karnataka, Masani Ammam temple is one of the must-visit places to visit in Coimbatore for you
8. Parambikulam Wildlife Sanctuary
Cradled between the states of Tamil Nadu and Kerala, this wildlife sanctuary is sprawled over an area of 285 sq km. The place serves as a safe abode for numerous endangered species as well as a popular tiger reserve. From vibrant butterflies, Nilgiri Wood Pigeon, and Woodpeckers to about 47 species of fish, there is a lot to discover on your Parambikulam excursion.
Apart from exploring the diverse flora and fauna of the region, one can also spend their time interacting with the local tribal people over here. Parambikulam is home to four major tribes which stand as a testimony to the rich culture and traditions of Southern India. Whether you are hunting for some action-packed adventure amidst this dense forestland or want to invigorate your senses in the surreal laps of nature, it has just the best experiences in its reserve.
9. Monkey Falls
Looking forward to an exciting weekend? Make your way to this picturesque destination where you will be welcomed by exciting rapids and an awe-inspiring landscape. Enveloped with thick evergreen forests and Anamalai Ranges, Monkey Falls is one of the most enticing places to visit in Coimbatore for anyone who wants to laze around amid the surreal nature
Whether you are in a mood to trek your way up the hill or plan a memorable picnic with your loved ones, Monkey Falls never fails to amuse its visitors. Just a stone's throw distance away from Aliyar Dam, this southern beauty has got everything to fill your soul with peace. Chinnar Wildlife Sanctuary and Azhiyar Dam are some of the noteworthy places to be explored nearby.
10. Velliangiri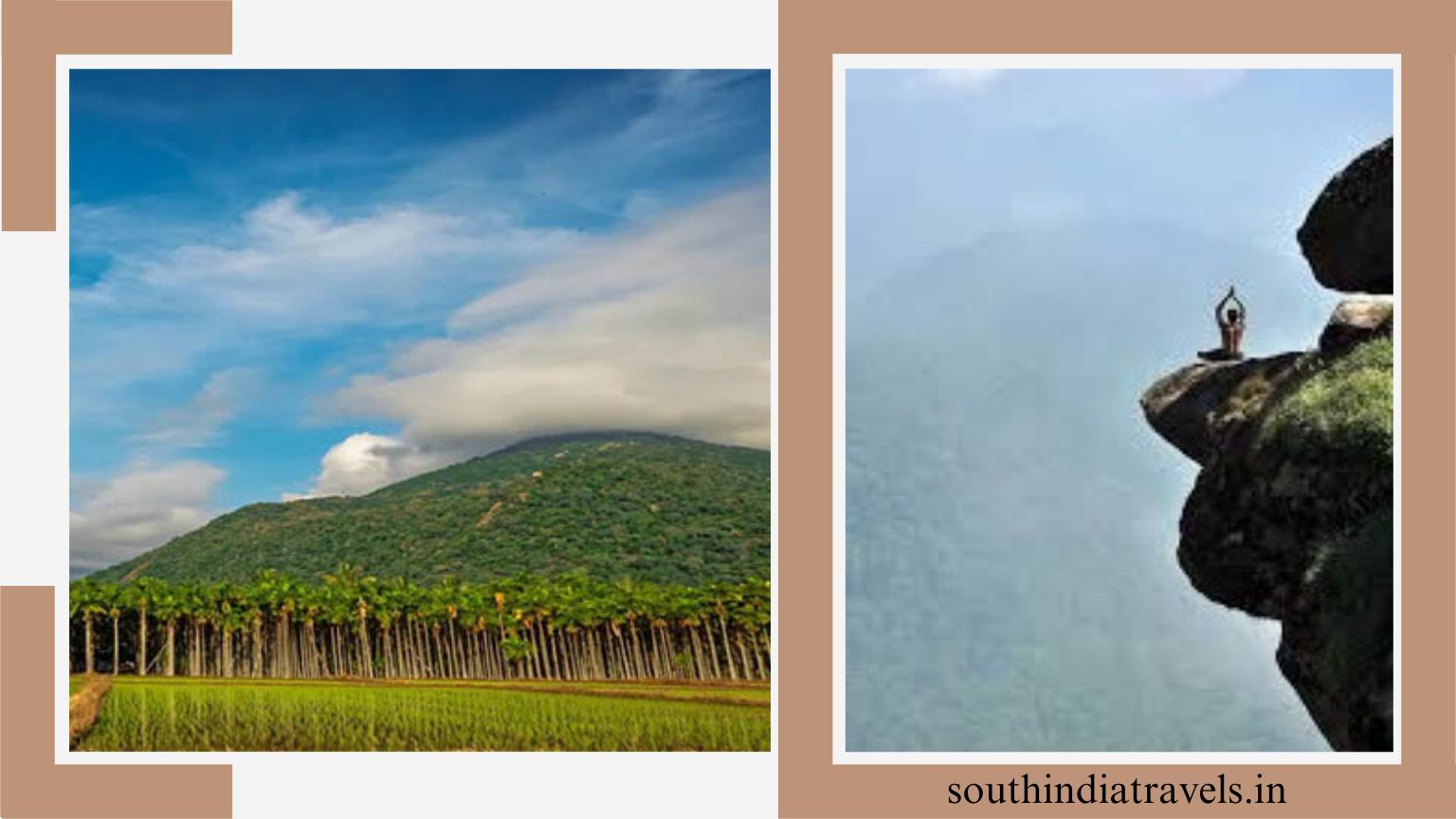 Considered as one of the most difficult trekking places to visit in Coimbatore, Velliangiri hills offer a homogeneous mix of adventure and peace. The hills are settled in the heart of Western Ghats and form a part of the Nilgiri Reserve. In addition to being a preferred trekking site among the adventure junkies, it has also bagged a lot of attention for its religious significance.
Velliangiri hill is home to the popular Lord Shiva temple which witnesses a massive influx of devotees and sages who come to offer their prayers to the lord and meditate in its tranquil surroundings. If folklore has to be believed, this temple also happens to be the site where Lord Shiva performed his well-known cosmic dance
11. Siruvani Waterfalls
One of the most captivating places to visit in Coimbatore within 40 Km, Siruvani Waterfalls is no lesser than a surreal paradise. This place witnesses a huge influx of travelers all across the year who flock here to soak in its exotic wildlife and get a step closer to nature. Flanked by the gigantic Nilgiri ranges on all of its sides, Siruvani creates a picture-postcard view with its free-flowing milky water streams.
While here, you can head for an enthralling trek amid the Nilgiri ranges, indulge in bird watching, or embark on a jungle safari with your group. If this is not enough to soothe your soul, set out towards the Siruvani Dam and enjoy uninterrupted time in the laps of nature