1. Alappuzha Beach
If you are a beach lover then the alluring beauty of Alappuzha cannot be missed. Alappuzha beach is one of the most popular tourist attractions in Alleppey. Less crowded, scenic, serene and enchanting, Alappuzha Beach will make your beach holidays one of the best to remember. Dense palm groves and soul soothing serenity of the park nearby, freshwater rivers and Scenic Arabian Sea is just a perfect need to spend some moments in peace.
Be it honeymooners, families or solo travellers, this is absolutely a worth visiting place to enjoy the watery wealth of God's own country Kerala. For Adventure lovers there are plethora of activities to enjoy like parasailing, beach volleyball, & surfing. There is also a 150-year-old Alappuzha Lighthouse which was built in 1862 in the reign of Rama Varma Maharaja of Travancore, which you should not miss while enjoying the beauty of Alappuzha Beach.
2. Krishnapuram Palace
Krishnapuram Palace is a rare specimen of the glorious ancient past of Kerala. It was built in the 18th century by Anizham Thirunal Marthanda Varma, the ruler of Travancore. It is one of the most beautiful masterpieces of Kerala Style architecture. Thick-framed doors, narrow corridors, gabled roofs and dormer windows will teleport you into the world of bliss. Most of the small units of the palace are lost in the ravages of time, only the main structure has survived.
The mural of Gajendra Moksham is the centre of attraction of Krishnapuram Palace. It depicts the mythological story of Lord Vishnu who reached earth to save an Elephant (devotee of Lord Vishnu). The mural is placed at the entrance of the palace from the pond so that the kings could bow down to the deity after their bath. It is one of the best heritage tourist attractions to visit in Alleppey.
3. Marari Beach
Alleppey is a water paradise of Kerala and if you are in Alleppey then you must visit the gorgeous Marari Beach for a relaxing and peaceful vacation. Marari got its name from a local village of Arabian Sea Coast – Mararikulam. It is one of the best beaches to enjoy holidays with your family and friends.
Coconut palm trees, scenic sands and picturesque vistas will be a delightful paradise for a romantic stroll or fun filled trip with friends. Sightseeing in Alleppey will be more soothing if you visit Marari Beach. There are many Ayurvedic centres to rejuvenate your mind and budgeted holiday resorts and homestays makes this place a perfect holiday destination in Alleppey.
4. Vembanad Lake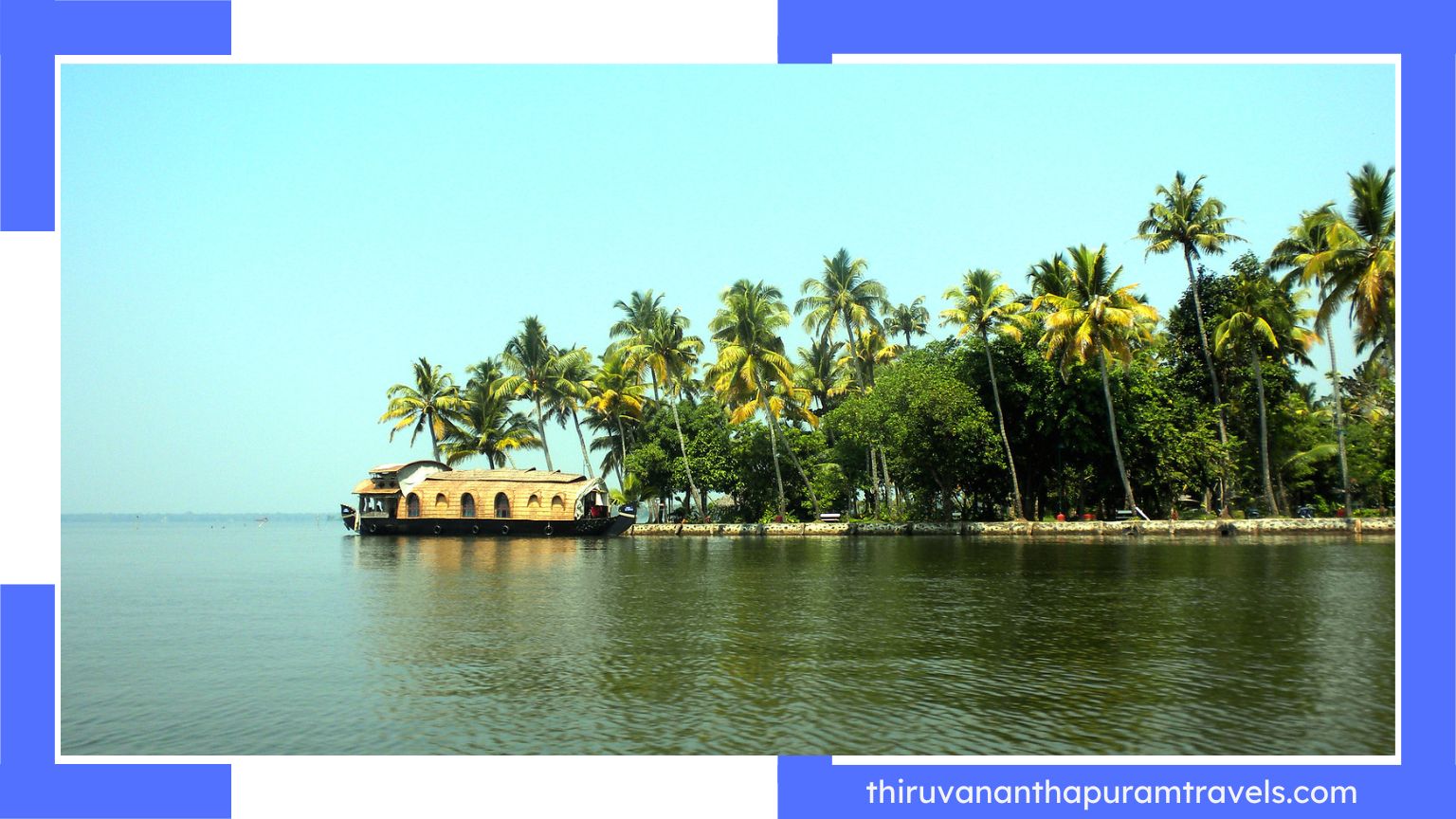 While going for an Alleppey Kerala Backwater Tour, Vembanad Lake is a stunning tourist stopover that one must not miss. Decked with Mangrove forests all around with coconut trees, a cruise on a houseboat is the best thing to do to enjoy the best of Kerala Tourism. On a houseboat you will pass through narrow canals, lagoon islands, tiny hamlets and experience the simple and serene countryside lifestyle. Your imagination will run wild and you will be lost in the world of fantasy.
The experience of cruising in 60ft long and 15ft wide traditional Kettuvallam will be the experience of a lifetime. Don't forget to visit the beautiful island of Pathiramanal which floats on the backwaters and it hosts 50 species of exotic and 90 species of endemic birds. Vembanad Lake is one of the best backwater destinations to visit around Alleppey.
5. St. Mary Forane Church
St. Mary Forane Church is one of the most popular places to visit in Alleppey. It is the oldest catholic church in Kerala. This church dates back to 835 AD and it got the status of a Forane in 1929.It is dedicated to Virgin Mary. Ancient stones with engravings and Thaliyola in the 'Nanam Moonam' alphabet will take you back to ancient times.
Moreover, you will also witness some of the oldest, artistic, historic and archaeological objects in granite, wood metal like Granite cross, Altar, Bells, etc. Devotees from all over the world come to see the grandeur of the church of glorious ancient past and seek divine grace. Apart from the Church, serene backwaters flowing adjacent to the church will add a treat to your Alleppey Tour. The church has an open-air rock cross which dates back to CE 1151.
6. Triveni Floating Market
Your Alleppey tour will be more pleasant if you visit Triveni Floating Market. It is the best place to visit in Alleppey for a day trip. Shopping in this amazing floating market is an experience of a lifetime. You will get to buy things on a boat like fruits, toiletries, stationeries etc. It is a state-owned market.
The most interesting fact about this place is that such kinds of markets used to exist when there was not any other means of transport. People used to travel on boats. Existence of this kind of market in Alleppey makes it the best place to explore in Kerala. It supplies essential items like groceries, stationeries to remote islands but for tourists, shopping on a boat will make the sightseeing more interesting in Alleppey.
7. Backwaters of Alleppey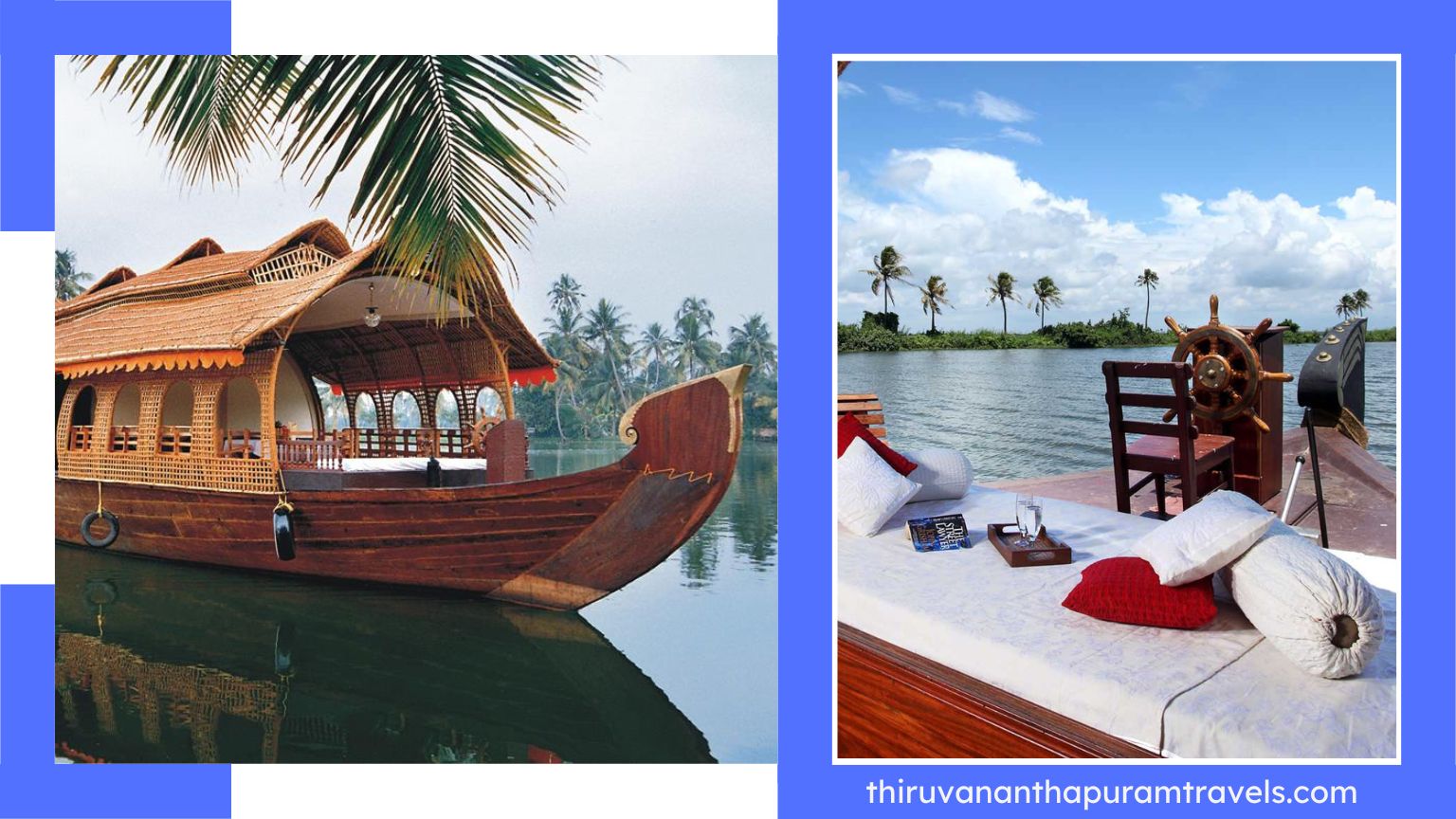 Travelling to Alleppey would be incomplete without enjoying your day in the gorgeous backwaters of Alleppey. The houseboat cruise is the best way to enjoy the tranquillity and serenity of the sights around the beautiful backwaters.
As you pass through the narrow canals, lush vegetation and scenic villages dotted with coconut trees, you will feel that moment to be the best moment of your life. If you are a couple, then a Backwater tour with your beloved is a must to enjoy the best of Kerala Tourism. Alleppey is known for its backwater tourism and if you are not enjoying houseboat cruises then what are you doing in Alleppey?
The houseboats have all the facilities a tourist needs. If you want luxury, you will get a well-furnished houseboat with the facilities like a private chef who pampers you with lip- smacking South Indian cuisines. For couples there are special Alleppey honeymoon houseboats with all the romantic arrangements. Backwater Tour is one of the best things to do in Alleppey, be it a couple, solo traveller or family.